Alternative

Energy
Solar & Wind Power. Generators & Charging Stations
Keeping The Lights On
O'Connor Electric has trained professionals that can help with emergency power or economical power sources to help lower your energy costs and reduce your carbon footprint.  Let us help you choose the right power for you.
GENERATORS
Generators can provide a source of comfort and assurance in those times when tragedy strikes. A standby generator can bring your home or business from darkness to light within seconds in the event of a power outage. O'Connor Electric is a certified sales and service dealer for Generac Power Systems. We are also trained on other generator systems such as Kohler and Cummins Power Systems.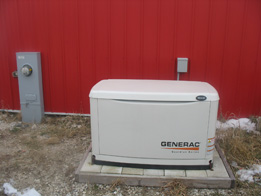 Call us to come out and help you size out the right size generator that fits your home and budget. Let us set your mind at ease in knowing that when the weather turns bad, you'll have lights and power.
VEHICLE CAR CHARGERS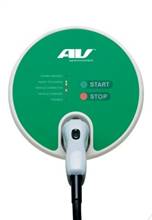 Tired of having to pay hundreds of dollars at the gas pumps. O'Connor Electric has trained certified electricians to install zero emissions car chargers right in your home. Whether you are getting a new Tesla, Nissan Leaf, or other electric charging vehicle, we can set up your home with the proper charging unit so you can park after work, plug in to recharge, and you're ready to go the next morning! It's just that easy.
SOLAR  POWER –  PHOTOVOLTAIC (PV)
---
If you are interested in Green technology,  tap into the power of the Sun and let it work for you. O'Connor Electric works with several Photovoltaic distributors to be able to determine the best type of solar energy system that will fit your home or company.
F.A.Q.
WHAT IS  PHOTOVOLTAIC (PV)?
Photovoltaic are solar panels that use the UV rays from the SUN to generate DC power.  Once generated the power is inverted to AC power and is used to supplement the power you use in your home or business.
CAN I MOUNT THE PV SYSTEM ON MY ROOF?
Yes, this is a very cost effective way to mount the panels without using valuable land space, however solar panels can also be mounted on pole towers if required. Depending on your site evaluation O'Connor will help you determine the best system to use.
CAN I INSTALL A PV SYSTEM WITHOUT THE EXPENSIVE BATTERY SYSTEM?
Yes, due to the high cost and maintenance of battery systems, many customers choose to install the PV system as a direct connect with their current utility company. This allows them to lower their energy bills during the peak sun periods, but still have the power flowing when the sun goes down.  However, Battery backup systems can further reduce your energy bills, providing power when the sun is down or if there is a utility outage with the power company.
HOW MUCH POWER CAN MY PV SYSTEM GENERATE?
The common size PV panel is about 224watts  per panel. By adding panels together a grid is formed to provide the energy you need to serve your site.   A site evaluation will need to be done to determine exactly what size system will work for you.
WIND ENERGY
---
For over a century McHenry County has seen Wind Power provide energy to our Ag community, now it can come to your home.  O'Connor Electric can help you to reduce your carbon footprint on the earth by using Wind Power to reduce your energy consumption from non-friendly/non-renewable energy sources.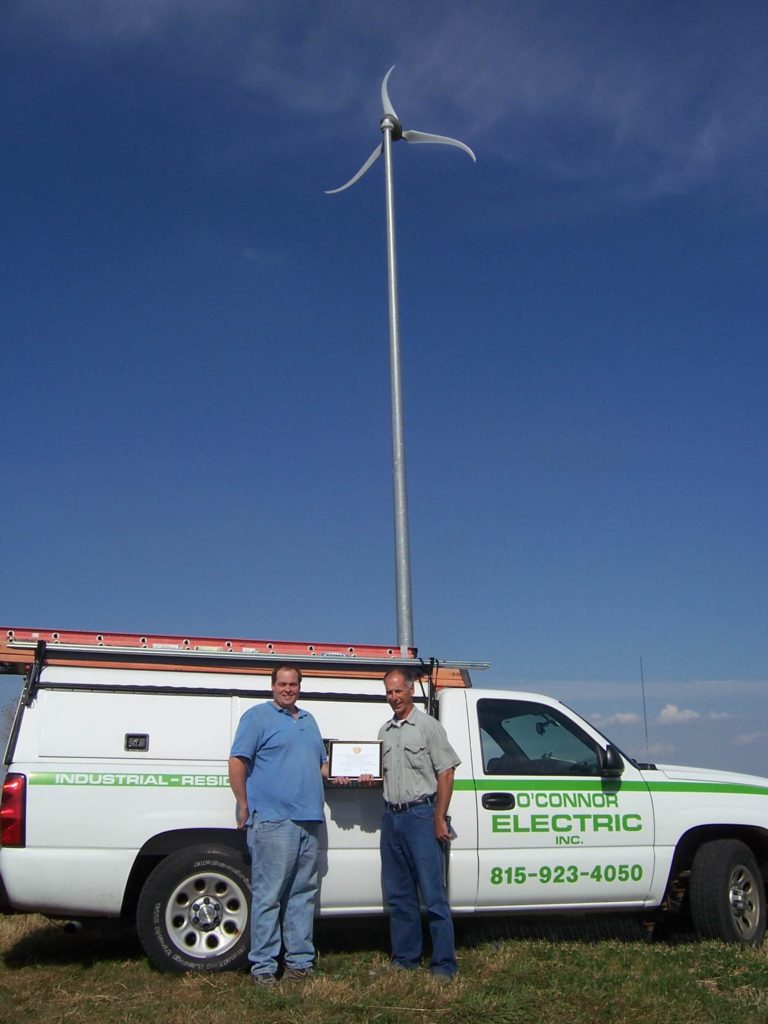 F.A.Q.
WHAT IS WIND POWER?
Wind power is created by taping into God's given resource of wind with a Wind Generator that connects directly to your home or business.  The typical installation allows the wind to provide power to your panel reducing or eliminating  the amount of kilowatt hours (kwh) you use from your utility company, thus, lowering your electric bills.
HOW CAN WIND POWER HELP ME?
On windy days the wind turbine will generate power directly to your electric panel reducing what you are using from the utility company. When the wind is low the utility company seamlessly powers your panel again.  At times of high wind, if the wind generator is producing more power that you are using, the additional power is fed through your meter , back to the utility company helping to supply additional energy to your neighbors.   When this happens the utility meter  will register the amount of  kwh's generated  back to the utility, and credits them back to you by reducing the kwh's you have used or may use in the future from your utility.
HOW DO I KNOW IF WIND POWER WILL WORK FOR ME?
Most wind turbine generators need an average of 10mph wind speeds to be efficient.  Here in McHenry County there are several areas that meet this requirement.
WILL MY TURBINE WORK WHEN THE POWER GOES OUT? 
No, for safety reasons, a grid connected system is to be shut down automatically when it senses a loss of power from the utility.  However Wind systems can be combined with a battery storage system to keep the power flowing, and provide a source of comfort and assurance in those times when tragedy strikes