Alternative

Energy
Generators & Charging Stations
Keeping The Lights On
O'Connor Electric has trained professionals that can help with emergency power or economical power sources to help lower your energy costs and reduce your carbon footprint.  Let us help you choose the right power for you.
GENERATORS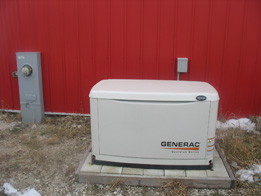 Generators can provide a source of comfort and assurance in those times when tragedy strikes. A standby generator can bring your home or business from darkness to light within seconds in the event of a power outage. O'Connor Electric is a certified sales and service dealer for Generac Power Systems. We are also trained on other generator systems such as Kohler and Cummins Power Systems.    
Call us to come out and help you size out the right size generator that fits your home and budget. Let us set your mind at ease in knowing that when the weather turns bad, you'll have lights and power.
VEHICLE CAR CHARGERS 
Tired of having to pay hundreds of dollars at the gas pumps. O'Connor Electric has trained certified electricians to install zero emissions car chargers right in your home. Whether you are getting a new Tesla, Nissan Leaf, or other electric charging vehicle, we can set up your home with the proper charging unit so you can park after work, plug in to recharge, and you're ready to go the next morning! It's just that easy.